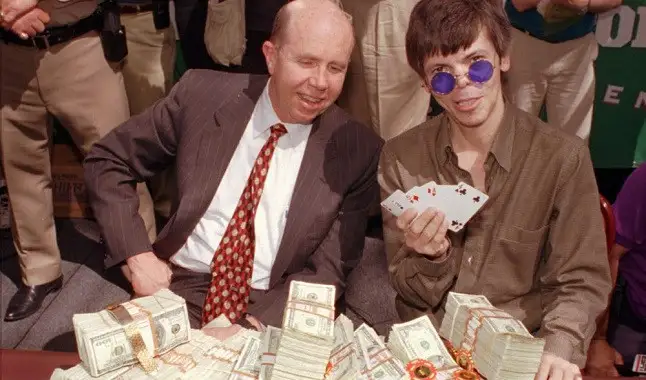 Today's poker star is the American legend Stu Ungar.
Born in Manhattan, New York, USA on September 8, 1953, Stuart Errol Ungar was a legend in the field of poker. The pro, known in the sport, became famous for his skills in blackjack, gin rummy and, of course, poker. In his life story Ungar was considered the greatest player in Texas in the sport of gin. In addition, Ungar was one of the few people to have won the World Series of Poker Main Event three times and the only person to have won Amarillo Slim's Super Bowl of Poker three times. The player was inducted into the Poker Hall of Fame for having won consecutive titles in WSOP Main Event history alongside Johnny Moss, Doyle Brunson and Johnny Chan.

Beginning of life
Born to Jewish parents, Ungar was raised on the
Lower East Side
,
Manhattan
, by a gambling father, moneylender and social club director. Thus,
Stu
entered the gaming world at a young age, but his father always prevented him from having contact with games, on account of seeing what it did to his customers. However,
Stu
chose to play in underground locations and quickly built a reputation. After dropping out of school, his father died of a heart attack and his mother with a stroke, and
Ungar
began to roam the New York games until he was 18 years old.
Upon coming of age, he developed an affinity with an organized crime guy,
Victor Romano
. Both young men had great ability to calculate odds while playing and this made the two have an extremely close relationship, where Romano became a mentor to Ungar.
However, Ungar started to be known for his arrogance in the game, seeing the other opponents always below him. In one of his actions,
Ungar
let out something that represented his life:
"I never want to be called a 'good loser.' Show me a good loser and I'll just show you a loser.
" During those years, players had to put up with Ungar's arrogant stance because he had Romano's protection. On one occasion, a person ended up hitting
Ungar
in the head, and some time later he turned up dead, but
Ungar
reported that he was not involved in the case.
History with poker
In mid-1976, Ungar dropped out of
gin rummy
and started looking for
poker
games. His giving up of
gin
was due to his hostile reputation with opponents, something that did not do well for
Ungar
's image. At one point in his life, casinos asked him not to participate in events, as many players chose not to play with him. Then, in 1977
Ungar
made a dent in tournament poker.
Ungar
quickly managed to defeat
Billy Baxter
in
Las Vegas
and snagged the sum of
$40,000
at the time.
But it was in the 80's that
Ungar
was firmly established in the middle of
poker
. In 1980, he played his first
Texas Hold'em
tournament within the
World Series of Poker
. At the time, he managed to defeat the legend
Doyle Brunson
, becoming the youngest champion in
WSOP
history, only surpassed by
Phil Hellmuth
in 1989. At the time,
Ungar
's victory and the young age earned him the nickname "
The Kid
".
As early as 1981, Ungar defeated
Perry Green
at that year's
WSOP
and secured another title for the account. However, the feat was almost not allowed to the player, as days before he had been banned from Binion's Horseshoe by Benny Binion himself, where Binion claimed that
Ungar
had spat in a person's face after losing a match.
Other achievements
After winning in 1981,
Ungar
also secured the title of the
$10,000 No Limit Hold'em World Championship
that year. In 1983
Ungar
won the
$5,000 Seven Draw Stud
medal. Finally, in 1997 he took the title of the
$10,000 No Limit Hold'em World Championship
.
Final years
On November 22, the player was found dead in his room, lying on the floor with the television turned off.
Doyle Brunson
commented on the event, saying "
Everybody felt terrible, but it wasn't a surprise.
"
Ungar
died with a
$30 million profit
in his career, however there was no asset to his name.
Play now at the biggest online poker house in the world, PokerStars!
Discover the best online sports bookmakers!