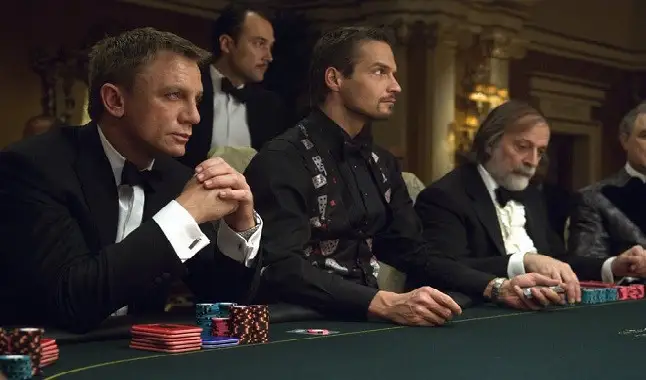 From James Bond to Sylvester Stallone's mobster Dean, check out the top 3 poker movies.
The seventh art and the sport of poker have always gone hand in hand. Since the days of western films, known as "western movies" or "bang-bang", poker has always been present. The cinema has always had a great appreciation for the art of a good poker game, introducing the use of cameras, capturing tension between the characters and the audience that is watching. So, we at the Betting Academy decided to bring a Top 3 films about poker. So, come on!
1 - 007: Casino Royale (2006)
Narrowing in the universe of 007, the British actor at the height of his 38 at the time, Daniel Craig, gave life to the most iconic agent in cinema, the character Bond, James Bond. Inside the 2006 Royale Casino, Agent 007 enters a table to play a game of poker with a millionaire, trying to obtain information to destroy a terrorist organization. Although the film does not have a very deep focus on this scene, its impact means a lot to sports lovers.
02 - Letters on the Table (1998)
The film, responsible for bringing many people to poker, starred Matt Damon at the time of his 29 years as a very good poker player. The plot of the film is based around the character Mike McDemott, who, despite his talent in the art of poker, ends up losing a lot of money, which he would use to pay for his studies, in the game. After that, the player decides to get a real job, but with the release of his friend from prison, he returns to gambling.
03 - Shade, Behind the Game (2003)
Would a movie about poker cheaters catch your eye? It may even be so, but what about when the cheaters decide it's time to set up the coup of the year for mobster Dean, starring Sylvester Stallone? The film, which brings us the knowledge of the poker underworld in Las Vegas, has much more to offer than you think.
Play now at the biggest online poker house in the world, PokerStars!