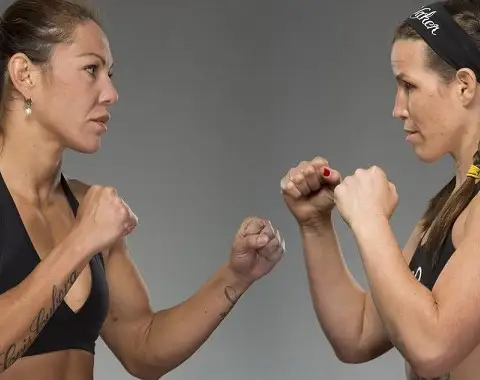 Leslie specializes in jiu-jitsu and faces Brazilian Cris Cyborg, who has excellent Muay Thai skills and probably better jiu-jitsu than Leslie. However, ...
Christiane Justino, AKA Cris Cyborg, is one of the greatest Brazilian Fighters. Throughout her career, she has collected many wins and titles. She was the last Strikeforce champion at her weight category and she's the current Invicta FC undefeated champion. Her MMA record is quite impressive, with 15 wins, 1 no contest and only 1 loss (in her first fight, in 2005).

This will be her debut in the UFC. But she only makes her debut at this point because she has had personal issues with Dana White which have made it harder to close the deal. In Brazil, Cris Cyborg is known as the woman who fights better than men, so she comes to this fight UFC fight looking for the belt. She could be a lot more famous then she currently is, but now she has the opportunity to get the recognition she deserves in the MMA world, given the popularity of the UFC. She definitely has the skill to face some of the greatest UFC fighters like Miesha Tate, Ronda Rousey or Holly Holm.

Leslie Smith is a 33 American fighter, 3 years older than her opponent. When she was still fighting for Invicta FC, she only won 3 of her 6 fights. In the UFC, she has lost against Sarah Kaufman and Jessica Eye, but has beaten Jessamyn Duke and Rin Nakai.

She has a more cautious style than the opponent and specializes in Jiu-Jitsu, a specialty in which she has a blue belt. Leslie isn't one of the greatest UFC fighters and hasn't fought that many great fighters. In no moment has she presented enough quality to fight for the belt. Therefore, this will be the hardest fight of her career.

Cris Cyborg has excellent Muay Thai skills and word level jiu-jitsu. But we believe she will not need to use her jiu-jitsu skills in this fight. She should try to fight on her feet, where her Muay Thai skills are more useful. We believe this will be one of the most uneven fights of the night, which means she may get to price of fight of the night.

Bet suggestion:
Under 1.5 rounds – 1.40 – Bet365